Thursday, August 4, 2016
10:00 am to 6:00 pm
BONUS: A 15-minute appointment with an author or editor.

You're welcome to come at 8:30 am for opening keynote
and to stay for the Thursday evening keynote.
There is no additional charge if you are already registered for Thursday.
Coming just to Teens Write?
Cost is $45 if you register through July 24,
$55 after July 24 and includes Pizza Feast at lunch.
Homeschooled students - 25% discount

Click here to register.
Parents and Teachers
we encourage you to attend one or more workshops
and/or the morning & afternoon continuing session
while your teen is in Teens Write.
Cost: $30 for one, $55 for two, $75 for three, $90 for four.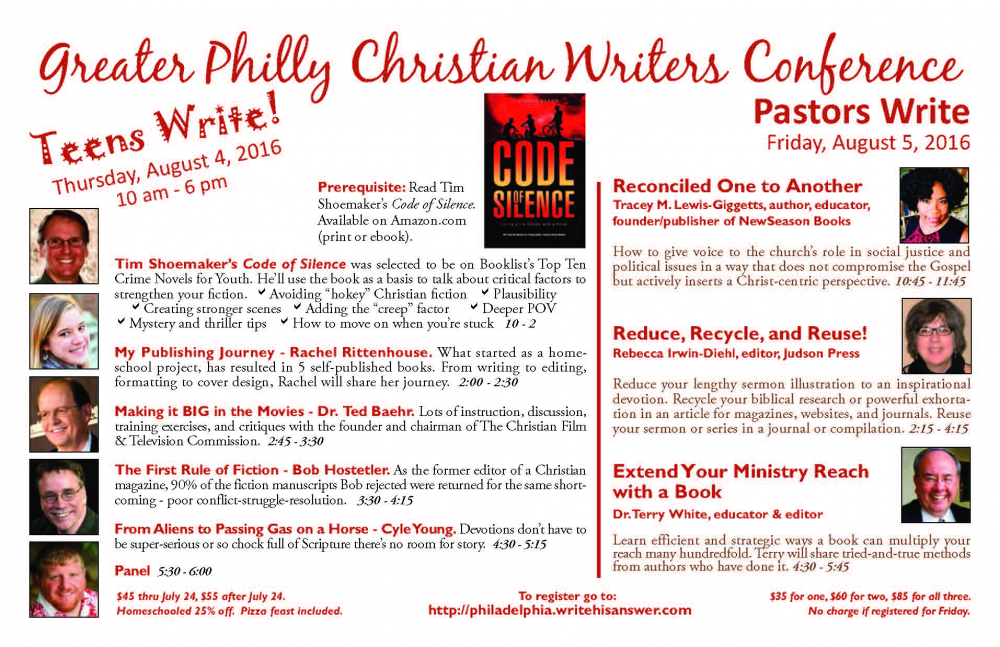 For a PDF of the above flyer click here.

Want a bunch to share with friends? Email [email protected].
​Fiction that Grabs & Holds Your Readers 10:00 - 2:00
includes Pizza Feast!




Tim Shoemaker
Author, Speaker
http://www.timshoemakersmashedtomatoes.com


Tim is happily married for more than 30 years to Cheryl, the love of his life. He is also dad to three grown sons and two daughter-in-laws. He has been a full-time speaker and author since 2004. Tim is grateful for God's incredible grace and mercy in countless ways. His passion is to impact kids and youth in ways that cause them to become true men and women of God.

Tim's Code of Silence was was selected to be on Booklist's Top Ten Crime Novels for Youth. He'll use the book as a basis to talk about critical factors to strengthen your fiction.

Avoiding "hokey" Christian fiction
Plausibility
Creating stronger scenes
Adding the "creep" factor
Deeper POV
Mystery and thriller tips
How to move on when you're stuck


Prerequisite: Read Tim's novel, Code of Silence.
Ebook & print verison available from Amazon.com
---
My Publishing Journey 2:00 – 2:30
Rachel Rittenhouse
Teen Author
www.RachelRittenhouse.come


Rachel is a 19-year-old, previously homeschooled, author of 5 self-published books. She says, "Writing has been in my blood for as long as I can remember and it is something that I take pleasure in doing." On her blog she writes about her writing journey, life experiences, book reviews, author interviews, and much more! Join her bi-weekly on Thursdays for something new and exciting!

Rachel lives in Pennsylvania with her parents, younger sister, and younger brother. This is where her grandparents have always lived, her great-grandparents, and their great-grandparents! She has been homeschooled for nine years and now is taking online courses through Liberty University, majoring in Business/Marketing.

Rachel started writing because she remembered the struggle of finding wholesome books worth reading that actually encourage a young person in their faith. What started as a homeschool project, eventually turned into the Woodsmall Sisters. Her first book, Finding Faith, was independently published in April 2014, with the second book, Discovering Hope, following in January 2015, and the third book, Accepting Change, published in August 2015. Her Christmas novella, Changing Traditions, was published in November 2015 and her nonfiction, A Student's Guide: 10 Easy Steps to Writing and Publishing, was released in April 2016.

What started as a homeschool project, has resulted in 5 self-published books. From writing to editing, formatting to cover design, Rachel will share her journey.
---
Making It BIG in the Movies 2:45 – 3:30
Dr. Ted Baehr
Author
Founder & Chairman,
Christian Film & Television Commission TM
Publisher, MOVIEGUIDE Magazine
www.MovieGuide.org


Ted is a noted critic, educator, lecturer, and media pundit. His life's purpose is to be used of God to redeem the values of the media while educating audiences on how to use discernment in selecting their entertainment. Armed with over 40 years of research on the media and culture, Ted's lectures have taken him to speak at the European Parliament, the House of Lords of the Parliament of the U.K., the Parliament of Norway, the Bombay Communication Institute, Yale University, Dartmouth College, the University of Virginia, and U.C.L.A. He makes himself available to address hundreds of churches and civic groups each year. Ted was president of the organization that produced The Chronicles of Narnia: The Lion, Witch and the Wardrobe for CBS-TV in 1980.

Lots of instruction, discussion, training exercises, and critiques. with the founder and chairman of The Christian Film & Television Commission.
---
The First Rule of Fiction 3:30 – 4:15
Bob Hostetler
Author, Speaker, Pastor
www.BobHostetler.com


Bob is an award-winning writer, editor, pastor. and speaker from southwestern Ohio. His thirty-six books, which include The Bone Box and American Idols (The Worship of the American Dream), have sold millions of copies. He has co-authored eleven books with Josh McDowell, including the best-selling Right from Wrong (What You Need to Know to Help Youth Make Right Choices) and the award-winning Don't Check Your Brains at the Door.

Bob has been a disc jockey, pastor, magazine editor, freelance book editor,and (with his wife Robin) a foster parent to ten boys (though not all at once). Bob and Robin have two adult children, Aubrey and Aaron, son-in-law Kevin and daughter-in-law Nina, and grandchildren Miles, Mia, Calleigh, Ryder, and Avery. Calleigh and Ryder deal daily with a condition called cystic fibrosis. To increase their prospects for long and healthy lives, Bob participates in Great Strides.

As the former editor of a Christian magazine, 90% of the fiction manuscripts Bob rejected were returned for the same shortcoming - poor conflict-struggle-resolution.
---
From Aliens to Passing Gas on a Horse 4:30 – 5:15
Cyle Young
Author, Speaker, Pastor
www.cyleyoung.com
Agent, Hartline Literary agency


Cyle is a multiple award-winning author, speaker, and pastor with a passion for sharing God's grace with hurting and broken people. He loves life and thrives on helping to facilitate life change in God's people.

As a former University of Michigan football player and high school All-American wrestler, Cyle understands the importance of maintaining proper priorities on God's word. He has authored three children's books, four books for teenagers, and four books for adults.

Cyle's greatest joys are being a true child at heart, a bond-servant of Jesus Christ, and creating card and board games for his children. His greatest fears are hostile alien invasion (thanks Hollywood), missing the rapture (thanks Thief in the Night movie 1972), and police officers (no one knows why).

He is the father of five (two in heaven and three on earth), and he has a beautiful under-rower in his wife Patricia.

Cyle is a self-confessed workaholic who works diligently to help build the kingdom of heaven. He considers himself a "binge writer" and routinely scribes 30,000 words in a weekend. Cyle finds great joy in writing and loves to bounce between crafting epic high fantasy tales, helpful non-fiction parenting books, and getting lost in the melodic rhythm of children's poetry. He serves as managing editor of www.almostanauthor.com, a website devoted to helping aspiring writers become published authors, and is also a monthly contributor to the parenting website, www.just18summers.com, and the writing website, www.thewriteconversation.blogspot.com.

Devotions don't have to be super-serious or so chock full of Scripture there's no room for story.
---
Panel & Wrap Up 5:30 – 6:00