Although the coronavirus
caused the July 22-25, 2020 GPCWC
to be postponed until next year,
God's call to "write His answer" continues.
Because this would have been GPCWC's 37th year,
I'm reducing the cost of MP3s from our 2019 conference
by 37% through July 31, 2020
Regular price
GPCWC alumni $77
Non-conferees – $107

NOW only $48 for everyone
for 75 sessions!
Click here to add to cart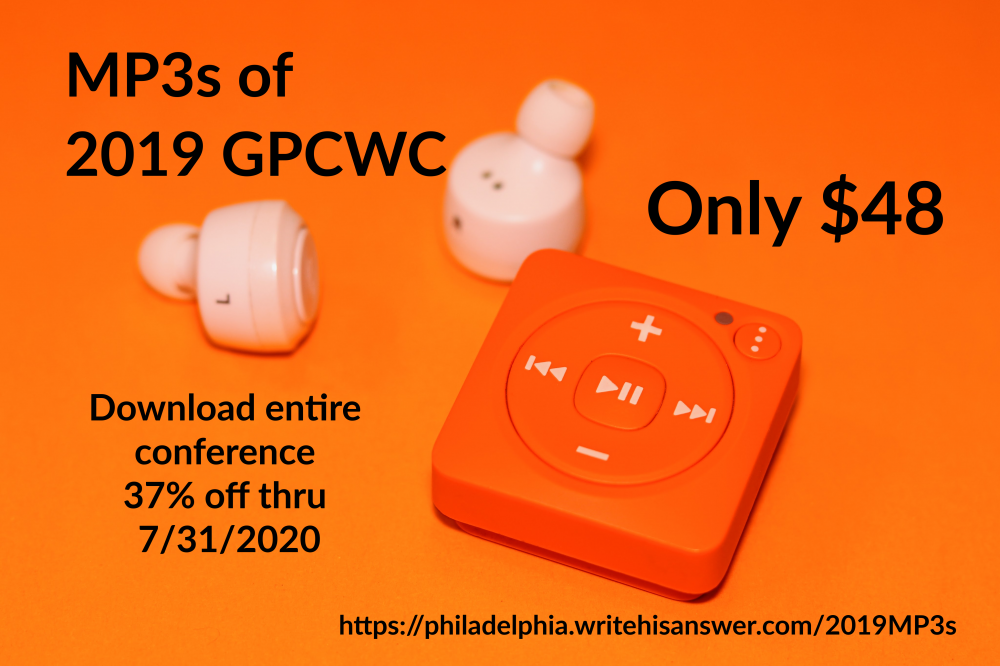 Download or listen online by clicking the links below.
Be sure to also click on the handout(s) if any.
Click here for the 2019 brochure with descriptions
of each session.
---
MP3s of individual sessions
1-6 – $4.00 each – now $2.50
7 or more – $3.50 each – now $2.20

Mail check payable to GPCWC
for individual MP3s you download.
PA residents add 6% sales tax.
Send to:
GPCWC
951 Anders Road
Lansdale, PA 19446

Prefer CDs?
Click here for order form!
CDs are not reduced in price
and need to be requested by mail.
---
Unfortunately, these sessions were not recorded, but there are handouts for several. (If you did not attend GPCWC, please do not print or download the handouts.)
T6 – Writing a Children's Picture Book – Michelle Lazurek – Click here for handout
T8 – Turn Your Preaching or Teaching into Writing – Dave Fessenden – Click here for handout
T10 – Academic vs. Popular Writing – Peter Lundell taught for Charles Christian
2D – Theological Accuracy in Nonfiction – Catherine DeVries
2E – What do Agents and Editors Want? – Linda S. Glaz – Click here for handout
2G – Writing for Children – C. Hope Flinchbaugh – Click here for handout
Changes in speakers:
1C – Middle Grade and YA Fiction – Darcie Gudger taught this workshop since Linda Howard was unable to be with us.
3D – Write and Publish Articles – Ava Pennington taught this workshop since Charles Christian was unable to come.

Substituted sessions from CCWC: We also encountered a glitch recording the following sessions, but they were taught and recorded at the May 2019 Colorado Christian Writers Conference. There is no lead-in stating the material is copyrighted but it is.
Continuing Session 1 – Fiction Writing – Bill Myers
Continuing Session 5 – You CAN Publish and Market Your Book – Sarah Bolme
Because we lost one of Bill and Sarah's Philly sessions, I've uploaded the five sessions of each from Colorado providing an additional hour of their teaching.
1E – Creating a Book Proposal – Karen Whiting (I've included the additional handouts Karen provided when she taught this workshop in Colorado.)
3A – The Watchman's Burden – Michael Gantt
4E – Heading Home wiht a Plan – Karen Whiting
NOTE: The Learning Labs are presently only available on a CD ($10 plus $3 shipping) because of the size of the file.
To save to your computer click on the audio title. To sort the information please click on headings. Click the pencil to view an outline if available.